I turned 31 on July 1st (gross, I don't wanna talk about it, I'm old as fuuuuuuuuu), and I had a craving for my mom's Wacky Cake recipe. What is Wacky Cake, you ask? Only the best thing you'll ever shove in your cake hole. My mom discovered the recipe back when she was a nutritionist working with obese children on Duke's Rankin ward. The recipe contains 0 eggs, 0 milk, and 0 butter. But where was taste, you ask? The secret is in a few of the wet ingredients, which you'll see below. My mom used to make this for me EVERY year on my birthday and it is such an indulgence. The taste immediately returns me to my childhood and reminds me of home.
The problem with this cake is that it's SO good that I've eaten about 2-3 pieces in 1 sitting. I cannot be stopped. So I decided to make it fit my healthier lifestyle a little by adding in some protein powder, subbing out vegetable oil for less processed coconut oil, subbing a sugar baking blend for the real thing, and switching regular white flour for almond meal. The result? The EXACT same flavor with a lot less guilt. From my mama's kitchen to yours - enjoy!
DRY INGREDIENTS
2 scoops Ultra Peptide 2.0 chocolate protein powder
1 c almond meal
2/3 c stevia baking blend (use a blend, not just all stevia)
1/4 c cocoa powder
1 t salt
1 t baking soda
Mix all ingredients in a medium bowl until all the lumps have been smoothed. I like to use a fork here and smash all the lumps. Ain't nobody got time for lumpy cake batter.
WET INGREDIENTS
1 t vanilla
1 T white vinegar (yes, vinegar)
1/3 c coconut oil, melted
1 c cold water
Take your mixed together dry ingredients and make 3 indentations in it. 1 small, 1 medium, and 1 a little bigger. In the smallest indentation add the 1 t vanilla. In the medium indentation add the vinegar, and in the largest, add the coconut oil. Once that's done, pour your cup of cold water over the top of everything and mix well.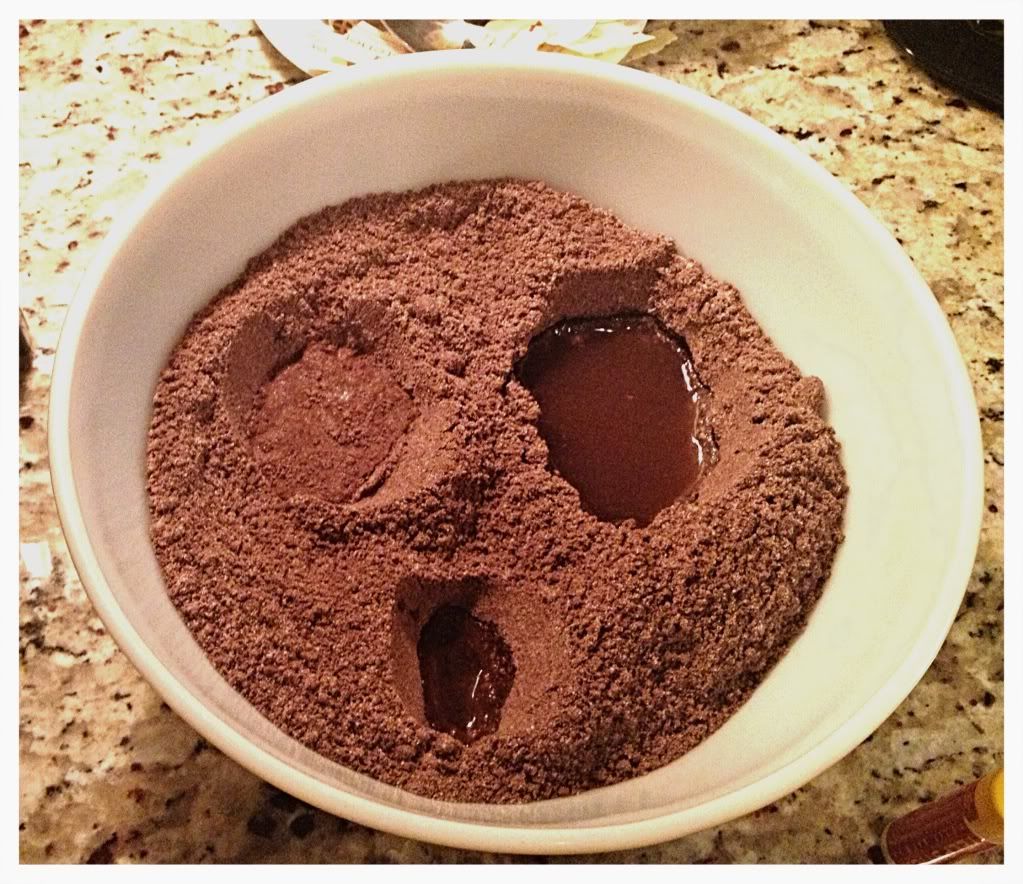 Here's what the 3 indentations look like before you add the water.
Spray square cake pan with coconut oil and bake at 350 for 30-35 mins, or until a toothpick comes out clean. Let it cool and enjoy the noms. I actually prefer to eat this cake chilled. That's how the Polissons like to eat their Wacky Cake.